The 7th Kufsteinerland Cycling Marathon on 3 September 2023
Registration will be open from 15.10.2022!
6. Kufsteinerland Radmarathon 2022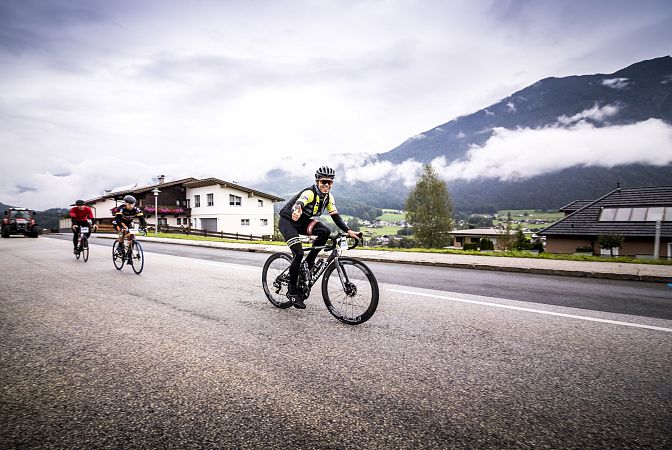 Exciting bike-to-bike race at the Kufsteinerland bike marathon
Hot asphalt, smoking wheels, burning thighs - and all in front of a dreamlike backdrop. The Kufsteinerland has hosted the Kufsteinerland Cycle Marathon since 2016 and turns into a true race bike paradise every time. The race bike region is packed with gentle hills alternating with crisp climbs. After the demanding climbing passages, fantastic views reward you for your efforts. In addition to the highlight of the Thiersee valley, you will ride past the Reintal lakes and up into the panoramic Brandenberg valley. The bike marathon definitely allows you to get to know the most stunning roads in the Inn Valley. While the cycle marathon route is a challenge even for professionals, the lake circuit offers everything that an ambitious amateur athlete could possibly want. For all those who want to take it a little easier, the pleasure circuit is ideal. All three routes have one thing in common - breathtaking views and the chance to enjoy a cosy get-together after the race with a serving of pasta and a great chat on the upper town square in Kufstein.
Kufsteinerland cycle marathon
Men's
1. Kirchmair Stefan

3:20:22,1

AUT

2. Debertin Daniel

3:20:22,3

GER

3. Rechenauer Johannes

3:21:52,7

GER
Ladies
1. Cooper Amalie

3:41:11,1

GBR

2. Fritz Monika

3:52:13,3

GER

3. Plattner Anna

4:03:19,9

AUT
Cycle marathon lakes circuit
Men's
1. Lechner Patrick

2:44:29,8

AUT

2. Backofen Fritz

2:48:44,0

GER

3. Mancini Marco

2:49:40,2

ITA
Ladies
1. Profunser Carina

3:11:49,3

AUT

2. Kupfner Simone

3:28:19,5

AUT

3. Kirchner Nadine

3:29:04,4

AUT
Cycle marathon panoramic circuit
Men's
1. Schmitt Christian

1:17:58,3

AUT

2. Geis Christian

1:18:00,3

AUT

3. Steinhaeuser Friedl

1:23:45,9

GER
Ladies
1. Kopp Verena

1:32:29,0

AUT

2. Backofen Annett

1:35:08,5

GER

3. Steinl Tina

1:37:32,4

GER